Sub-Contractor Opportunities
Are you a tradesperson looking for jobs near you? Search through our sub-contractor opportunities for your ideal position and discover why hundreds of engineers across the country are signing up to be part of Rightio's growing network of sub-contractors.
Why you should join our growing network of sub-contractors
"Over a million pounds worth of marketing""Receive alerts of jobs where and when you want them""Unlimited access to work""Quick payments and weekly statements""Set your availability""All qualified jobs booked by customers""No time wasted filling in paperwork""No bidding for work"
How you can benefit:
Working as a Rightio partner can be a fantastic way to support your income. Your earnings are totally uncapped, and you can benefit from our higher weekend and late-evening rates.
With our diligently managed marketing strategies, you can rely on us for a steady flow of work, and as long as you don't forget to close the job on our engineers' app (EMS), you will get paid every week.
Our logistics team also take care of all customer communication, allowing you to concentrate on providing excellent customer service. On the occasional times that a customer visit doesn't go quite to plan, our dedicated customer services team will take care of any disputes or misunderstandings on your behalf.
The Incentives:
All wages paid weekly, direct into your bank account • No competition • No paperwork

Competitive rates of pay • Work in areas of your choice • You set your availability times

No joining membership charges, or ongoing membership costs • New job alerts via SMS or App

Automated job allocation system. No annoying phone calls • Be in charge of your own work load

Multimillion pound marketing budget to secure constant flow of work

Access to premium

Care Club

membership work • Ranking system gets you more work

Exclusive B2B accounts maintained by Rightio will be a great addition to your portfolio.
Engineer Testimonial
I have been working with Rightio since the beginning, I think the over all the experience has been good, plenty of jobs, good income, some very nice and friendly staff, and no need to advertise to find your own customers.
Thank you Rightio it's a pleasure to work with you
What makes us the Rightio choice?
Being a Rightio Subcontractor is free and always will be.
No trial periods and additional charges. With Rightio you're not paying a price for your qualifications.
Free leads every day
Choose to be busy, or take a day off. We'll offer you daily leads, and it's your choice to take the work or not.
Free high-value quotes leads
Our subcontractors get access to high-value work, such as boiler and bathroom installations for free. That's right, no more paying for leads you might not even get. Once you accept the work, it's yours and yours only.
Free vetting
Because why wouldn't it be? After all, we are the ones who need YOU!
Mobile app
No more handling cash and losing job sheets in the post. Our EMS mobile app is making your life easier - just fill in the fields, take a payment and relax - the rest is our responsibility.
Auto allocation
We'll text you leads so you don't have to chase us or worry about phone calls while doing a job or speaking to a customer.
Our Busiest Areas
Milton Keynes
Leicester
Doncaster
Norwich
Swindon
Bolton
Sheffield
Ipswich
Bristol
Stockport
Bradford
Salisbury
Gloucester
Wigan
Halifax
Bournemouth
Derby
Manchester
Huddersfield
Portsmouth
Nottingham
Wakefield
Harrogate
Southampton
Introducing EMS
Here are a selection of the benefits EMS offers you.
Free to download and easy to use

No more annoying paperwork

All job details available to view at any time

Preview your job queue for the day

Take before and after pictures of jobs

Choose postcodes you want to cover on the interactive map

View your rota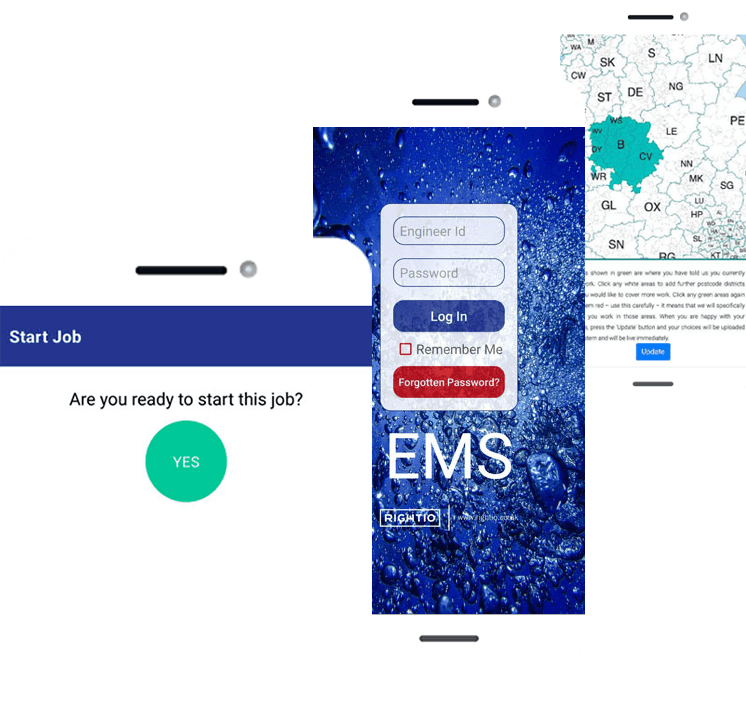 Partner Application
Things you will need before you start:
Photo ID

Public Liability Insurance

Proof of Address

Proof of Identity (Passport or Driving Licence)

Copies of Qualification Certificates
I've Signed Up, What Now?
Applicant is contacted by phone after applying online either through the job boards or via the RIGHTIO website.

Applicant is briefed and sent the online registration form.

Application is returned and vetted by the recruitment team to ensure all information is accurate and in order.

Once signed off they are then issued a welcome pack and sent information by email on how to download EMS application.

They are called a day or two later to see if they have received their welcome pack, if so we will run them through the companies operating procedures to make sure they understand the rules and regulations.

Once they have successfully installed the EMS app they are then activated on the network & are then free to set their chosen availability using EMS.

Engineer will then begin to receive job offers as an alert on their mobile or our operations team will call them to offer work.

Once they have accepted the job and completed it they will be paid weekly all jobs completed before 12:00pm on a Wednesday will clear into their account the following Wednesday.
We have engineers joining us in the morning and receiving work by the afternoon, so please be ready.
Glassdoor Reviews
Great leadership team and staff - improving every day!
Sales Manager
Current Employee
I have been working at Rightio full-time for less than 1 year
Pros:
The new Rightio is definitely going places and there is a great buzz in the team. It's a people business and encourages creativity and growth - disrupting the emergency callout market and making big steps to be a very successful business. Teamwork is at it's very best !
Cons:
No cons to mention at this time.
Great place to work
Human Resources Administrator
Current Employee
I have been working at Rightio full-time for more than 3 years.
Pros:
Free Breakfast Bar

One big family

Great Incentives

Buzz around the office on a daily basis

Free on site parking
Cons:
6 flights of stairs lol although thank god there is 3 lifts
Great Place to Work
Anonymous
Current Employee
I have been working at Rightio full-time for more than a year.
Pros:
Family environment, great work colleagues and a company that actually cares! No one is perfect but Rightio really do try and do the best for its employees and customers!
Great incentives, great bonus structure and recognition when deserved! The employee of the month award for head office and engineers is great as people get the recognition they deserve!
Cons:
Hours can be all over the place but that is the nature of working within a call centre.